THE 98COOL ROCK 'N ROLL RAM 3.0
The Biggest Prize In Saskatoon Radio History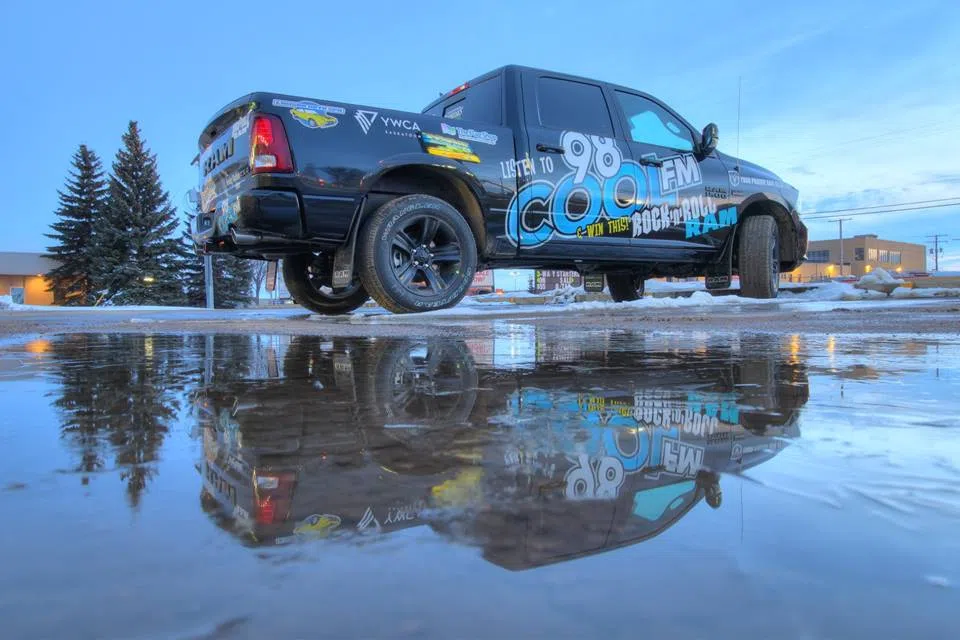 WIN the Rock and Roll RAM: Part III
Watch for the Cool Rock 'n Roll RAM on the streets of Saskatoon all year long. There will be plenty of opportunity to enter your name and win an exclusive invitation to the RAM give-away breakfast.
THE BORING LEGAL STUFF ABOUT THE 98COOL ROCK N' ROLL RAM CONTEST RULES AND REGULATIONS AND SUCH:
All references to Saskatoon Media Group and our rules and regulations also includes Prairie Chrysler, Dodge, JEEP and RAM Dealers as an affiliate.
Contest runs April 1st, 2018 until grand prize giveaway date. (December 18th, 2018)
Must be 18+ years of age to be eligible for this contest.
One entry per household please
Contest entrants must enter for the contest at the sponsored locations and via on-air or on-line contesting.
Finalists must be in attendance at the grand prize giveaway. They may not send a substitute. In the event the finalist cannot attend the giveaway date, their position as a finalist will be eliminated.
Odds of Winning: Once the 98 finalists are selected there will be a 1 in 98 chance of winning the grand prize.
Saskatoon Media Group is responsible for removing any and all decaling from the truck prior to the grand prize winner receiving it.
Employees of Saskatoon Media Group, Prairie Chrysler, Dodge, JEEP and RAM retailers their dealers, subsidiaries, agents and affiliates and their respective advertising agencies, members of such immediate families, same household members are not eligible..
By entering this contest, entrants consent to the use of their names and/or photographs and/or voice recordings, and/or video without compensation, in any publicity carried out by Saskatoon Media Group.
Prize must be accepted as awarded; prizes are non-transferable and have no cash value. Saskatoon Media Group is not responsible for reimbursement in monetary form or alternate product, should any event be cancelled.
Saskatoon Media Group is not responsible for any difficulties that may occur with email servers, telephone lines and/or computer delivery, nor is it responsible for destroyed, lost or misdirected entries.
By accepting the prize, the winner agrees to hold Saskatoon Media Group, their affiliates, subsidiaries, sponsors, advertisers, advertising and promotion agencies their respective directors, officers, employees and assigns, harmless against any and all claims and liability arising out of use of the prize. Winners assume all liability for any injury or damage caused, or claiming to be caused, by participation in this promotion or use or redemption of any prize. By participating in this promotion, entrants agree to be bound by the official rules and decisions of the judges.
Should circumstances beyond Saskatoon Media Groups control force cancellation of the promotion; this contest automatically ends with no compensation of any kind to be offered to existing qualifiers or winners. Saskatoon Media Group assumes no responsibility for any delays or cancellation of this promotion.
Saskatoon Media Group reserves the right to amend these rules at any time. Should amendments take place, Saskatoon Media Group will immediately make every effort to print new rules within 72 hours of when the amendments take place. Saskatoon Media Group assumes no responsibility for printing delays of amended rules, should it be the case.